The Magic is in the Media Mix
Wednesday, 03 October 2012 17:36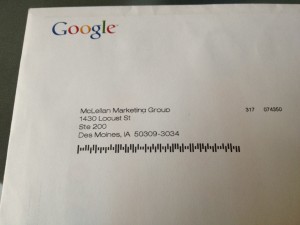 The other day I got a direct mail solicitation from Google. Yes, that Google.
It was a good reminder me (and now to you too) that none of us can afford to get lazy when it comes to media mix.
If the King of Online recognizes the power of a printed piece, then we should probably pay attention too.
We know that people need to hear our message on average 8-13 times before they even notice we're talking to them. But, in this age of being fascinated with all things digital — we need to remember to keep focused on creating a media mix — and that means adding some offline efforts into your overall marketing plan.
In fact, some are arguing that the hottest "new media" in terms of performance is direct mail. We've all rushed away from printing anything. Which means the mailbox is a lot less cluttered than an email inbox these days.
Best of all, by mixing your media, you can use one to point to the other. Your direct mail can drive traffic to your website. Your blog or FB page can encourage people to request a product sheet or attend a meet up at a trade show. (Oh…you'd forgotten that face to face is a media too, didn't you?)
As you plan your next campaign, consider these "old school" off line tactics and see how you can blend them into your media mix — and connect them to your shiny new digital efforts.
PR placed article in a trade pub — driving online trials

Face to face meetings that result from an email invite

Direct mail, driving them to an online video

Voicemail message, inviting them to a webinar

Radio spots inviting listeners to download a podcast

Hard copy white paper/article which introduces them to your online library of content
I'm not suggesting that you always need to cross promote between on and offline. I just wanted to show you what's possible. And how going old school with your media mix should be part of your plan. I don't care how hip and cool what you sell may be.